In Mountain Lakes, there has always been an abundance of multi-talented individuals, but there is perhaps no more quintessential renaissance man than alumnus Larry Blake (MLHS '65).
After moving to town in 1957 at age 10, Larry entered the fifth grade at Lake Drive school. During this time, he experienced a nurturing and safe community that furthered his personal development. However, three years later, tragedy struck as his father died suddenly from a heart attack. As a result, uncertainty arose as to the direction of Larry's future. While he and his mother considered moving, it was the guidance of certain Mountain Lakes teachers and coaches that convinced them to remain in town. They moved to Crescent Drive in the village; and ever since, Larry has made a name for himself as a jack of all trades, excelling in academics, sports, business, and most importantly, as a friend to all.
The first place that Larry made his mark was in the athletic arena. The Mountain Lakes High School graduating class of 1965 included diverse talents in multiple sports. During this era, while the high school sports programs were generally excellent, the tennis team was especially dominant. The 1960's teams were selected as the "Team of the Decade" for all sports by The Star Ledger. From 1962 to 1965, under Larry's leadership, they went undefeated with an overall record of 63-0 and they amassed four consecutive NJ state titles (for all Groups). Individually, Larry excelled at the Eastern Interscholastic Championships in Tarrytown, NY, which was open to all schools on the Eastern Seaboard. In 1963, he won the singles tournament; and along with Bob Cowin, won the doubles tournament and the team title. In addition to succeeding on the East Coast, he placed third in doubles (again with Bob Cowin) in the US National Interscholastic Championships in Williamstown, MA. In 1964, he continued his dominance at the Eastern Interscholastics, once again winning the doubles competition in Tarrytown and placing second in singles. In 1963, Larry was nationally ranked in the USTA Boys 16 and under division in both singles and doubles.
In addition to tennis, Larry showcased his abilities in basketball and football. In basketball, he was a three-year starter and team co-captain during his senior season. He was named a first team all-area basketball player by The Citizen newspaper in both 1964 and 1965 and second team all-county by The Daily Record for both years. Throughout his three year career, he scored 850 points. In football, he started as a sophomore, helping an outstanding team to a Group I ranking. While injuries limited his final two seasons, he nonetheless had established his reputation as an outstanding three-sport varsity athlete.
Larry also excelled in the classroom as a student. In a very competitive class of 135 students, he was ranked in the top 10 academically. He was inducted into the National Honor Society for his junior and senior years, where he served as Vice President. Above all, however, was his recognition for outstanding service to Mountain Lakes High School. At the 1965 graduation ceremony, he received the coveted Citizenship Award for his dedication and service to the school. All of these achievements, coupled with his distinction as Senior Class President, made for an incredible high school career.
When Larry headed off to Colgate University, he took the same rigorous approach to his college work and extracurricular activities. As an incoming freshman, he won the All-University Tennis Championship, which featured talented players ranging from freshmen to seniors, and included the varsity team. Unfortunately, his freshman year was the last year where freshmen were not allowed to play varsity sports. As a three year starter, Larry achieved a varsity win-loss record of 40-8 in singles and 43-5 in doubles, and he served as team captain in 1969. His teams were ranked in the Top 5 in the East in Division 1 over that three year period — quite an accomplishment for little Colgate!
Similar to high school, Larry participated heavily in the classroom and student government at Colgate. In 1967-68, he was elected to the Maroon Key Honor Society, which recognized the most outstanding student leaders in the Junior Class. In 1968-69, he earned the same distinction for senior leadership. As in high school, he was elected Senior Class President; and, he has remained very involved in class reunions and giving campaigns ever since.
Since graduating from Colgate in 1969 with a BA in Economics, Larry has remained very involved in school activities. He has served as a member on various boards, including the Board of Trustee Committee on Admissions & Student Aid, the Alumni Board of Directors, and the Trustee Committee on Athletic Affairs. In 1975, he was awarded the Maroon Citation, designated as the highest alumni award for service to the University. Over a 25 year period, Larry also performed extensive admissions work for the university at his local area high schools.
While participating in Colgate alumni work on the side, Larry started a career at Bethlehem Steel Corporation that lasted from 1969 to 2001. In 1969, Bethlehem was the #2 steel company in the US with sales of roughly $10 billion, 125,000 employees, and was ranked in Fortune magazine's "Top 100 US Corporations". Beginning with the Loop Training Program in 1969, Larry worked his way up the Corporate ladder, fulfilling various management positions and achieving accolades as a top Sales, Marketing, and Customer Service executive. Responsible for sales revenues in the billions, and overseeing thousands of people, he had titles of General Manager and Vice President during this period. He retired from Bethlehem Steel in late 2001 as the #2 Commercial Executive in the Corporation with many national responsibilities. Over his 32 year career, he was a well-known and respected steel industry leader.
After leaving Bethlehem Steel, Larry became a partner in Penn Capital Group in January 2002, and he still works there today. Penn Capital is an investment banking firm that assists private business owners in selling their companies. These companies are usually manufacturing and distribution firms with sales ranging from $5 million to $25 million. In addition to Penn Capital, Larry has done a significant amount of consulting in the steel industry over the last 10 years for both public and private companies. Over the years, Larry continued his executive education at the University of Michigan (Executive MBA), Duke University, and Harvard Business School.
Altogether, Larry Blake has dedicated his life to achieving excellence in all fields. While his resume rivals the very best, he would be the first to tell you that his proudest achievements are not in sports, school, or business, but rather, with his family. He and his wife, Jackie, have been married for 49 years, and they have three children—Kim, Larry Jr. and Jeff—all of whom have been high achievers. Additionally, they have nine grandchildren; and, therefore, three very busy families to watch and enjoy. When Larry is not working, assisting in the education field, or spending time with his family, he still enjoys playing tennis and platform paddle tennis. He also enjoys spending time at his summer home in Keeseville, NY and traveling internationally. Over the last 20 years, he and his wife have visited Manila, The Philippines (where his son Jeff resides) 15 times as well as visiting 15 other countries throughout Europe and Asia. In October of this year, he and Jackie will be celebrating their 50th wedding anniversary with a Danube River cruise.
For Larry Blake, excellence in every endeavor is not merely a pursuit, but a way of life. He has demonstrated how to take valuable lessons and translate them into a fulfilling career and personal life. Although he has long since graduated from MLHS, he has always held close to his heart the things he learned and the people who helped him in Mountain Lakes. From his days growing up as a young child in the village to many accomplishments over the years, he has shown that anything is possible coming from the small town called Mountain Lakes.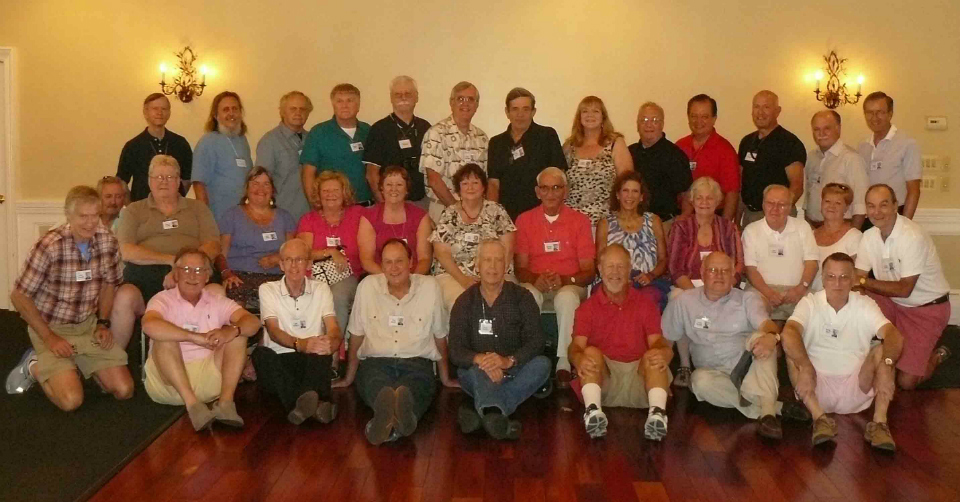 The Mountain Lakes High School Class of 1965 at a recent reunion.
At a Glance:
● Name: Larry Blake
● Graduation Year: 1965
● Position: Partner
● Company: Penn Capital Group
● Website: www.penncapitalgroup.com
● Industry: Private Equity
It's Your Turn! Tell us who should be the next Laker in the Spotlight…
Do you know a Laker who you feel deserves to be recognized for outstanding acheivement? Are they doing extraordinary things that make you proud to know them? Do they exemplify Laker Pride?! If so, nominate them now for our "Laker in the Spotlight" feature!
Simply fill out the form below, and an MLAA staff member will reach out to you for all the details.
[caldera_form id="CF5aafd8ad5bdce"]